College Basketball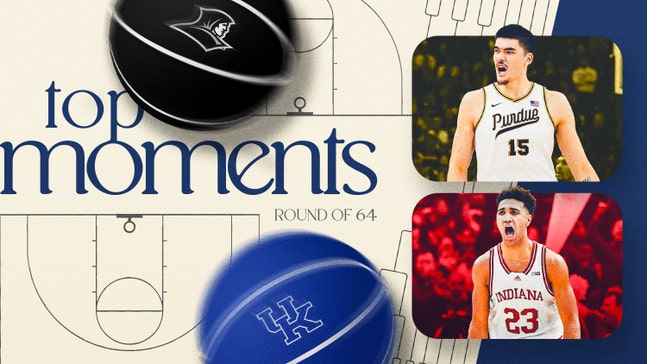 College Basketball
2023 March Madness live updates: Fairleigh Dickinson stuns top-seeded Purdue
Updated
Mar. 18, 2023 1:36 a.m. ET
Day 2 of the 2023 NCAA Men's Basketball Tournament was filled with madness from start to finish, highlighted by No. 16 Fairleigh Dickinson's stunning upset over No. 1 Purdue.
With the upset victory, the Knights became just the second 16-seed to beat a 1-seed in NCAA Tournament history.
The day kicked off with No. 7 Michigan State taking down No. 10 USC in the East Region, followed by 3-seed Xavier barely escaping 14-seed Kennesaw State, which made its first tournament appearance in program history.
Later on, No. 4 UConn put together a dominant second half and cruised to an 87-63 victory over Iona, while No. 4 Indiana closed out the evening with a 71-60 win over No. 13 Kent State in the Midwest Region.
Follow along with the most up-to-date bracket here.
Here are the highlights!
16. Fairleigh Dickinson 63, 1. Purdue 58
Hot start
Fairleigh Dickinson got off to a hot start as Grant Singleton drilled a deep 3-pointer to give the Knights an early lead.
Kiss it off the glass
Singleton continued to star for the Knights as the first half wore on, getting to the cup with this nifty finish with just over three minutes to play.
Game of runs
Purdue charged back after FDU's fiery start, stringing together a 7-0 run to reclaim control.
Dimed up!
In a game that many predicted would be a blowout, FDU hung around with vigor and bought itself a lead just before halftime.
The Knights led 32-31 after 20 minutes.?
Going for it!
The Knights kept at it in the second half, kick-starting an 8-0 run midway through to take another lead.
Hold the pose!
Talk about clutch! Sean Moore held his right up — and rightfully so — after splashing home the decisive 3-ball and sending FDU's crowd into a frenzied roar. Moore finished with a team-high 19 points in the historic victory.
3. Kansas State 77, 14. Montana State 65
Pretty pass
Markquis Nowell put his playmaking ability on display, rattling off a stellar pass to free his teammate for an easy layup.
We've got a game!
Nick Gazelas drilled a deep 3-pointer from the corner to bring Montana State back within eight.
Nowell with the answer
Just when it looked like Montana State was going to get back into the game, Nowell answered with a huge 3-pointer from deep to put the Wildcats up 54-43.
Nowell finished with 17 points and 14 rebounds as Kansas State held on to win, 77-65.
9. Florida Atlantic 66, 8. Memphis 65
Catch and fire
Kendric Davis showed zero hesitation as he made a crucial 3 late in the first half, putting the Tigers up three at the half.
Hear me roar
The Tigers went on a tirade to open up the second half, getting defensive stops and open shots to exercise their dominion.
Hanging around?
FAU found its own momentum as the second half wound down, using crisp ball movement to claw back into the matchup.
Down to the wire
Both squads played with tremendous heart as the game came to a close, trading several baskets before Memphis came up with a powerful put-back to go up one.
It's over!
After an enthralling sequence resulted in a Memphis turnover, FAU made magic on its last possession as Nicholas Boyd hit a clutch finger roll to ice the game.
4. Indiana 71, 13. Kent State 60
Bye-bye!
There's nothing like the intensity of March. The defense just ramps up to another level, as evidenced by this mammoth block by Chris Payton.
Four up!
Kent State got four points the hard way as it knocked down a trey amidst a defensive foul.
TJD did WHAT!?!?
Trayce Jackson-Davis threw down a NASTY one-handed slam, putting his defender on a poster. The emphatic dunk gave Indiana a 58-48 lead.
Jackson-Davis seals the deal
Jackson-Davis continued to put on a show, throwing down another big dunk for the Hoosiers, who held on to win, 71-60.
6. TCU 72, 11. Arizona State 70
Long range
Desmond Cambridge Jr. told the defense to step up as he laced a deep 3 before the half.
Out of my way!
The first half was close as can be, and TCU's Mike Miles Jr. sent a strong warning to defenders who dared get too close to him, rattling the rim with a thunderous slam.
On his head!
Frankie Collins saw Miles' jam, and raised him a poster of his own, embarrassing his defender with an eye-popping tomahawk.
We've got a tie game
TCU went on a late run and tied the game after Damion Baugh knocked down a corner 3 with 1:52 remaining.
TCU for the win!
With the game tied at 70-70 and the clock winding down, TCU's JaKobe Coles drove to the basket and flipped up a floater that went in with three seconds remaining to give the Horned Frogs a 72-70 win over Arizona State.
Corner pocket!
Drake had Miami on upset alert in the first half, as Sardaar Calhoun's trey pushed its lead to five heading into the break.
Scorching the net
Calhoun was unconscious for Drake throughout the match, hitting four total treys including this pair.
Miami though, closed the matchup on a 16-3 run to come back and stop Drake short.
3. Gonzaga 82, 14. Grand Canyon 70
Rejected!
Drew Timme's been making big plays for quite some time as a Bulldog, and this block is just another addition to the list.
Multifaceted
The senior forward did his part on both ends of the floor, tallying 21 points and six boards in the tilt.
6. Kentucky 61, 11. Providence 53
Coast to coast
Devin Carter got things going early for the Friars, jumping the passing lane and taking off the other way for a two-handed slam.
Bryce Hopkins put in a deuce on another coast-to-coast drive midway through the half, getting the and-1 against his former team.
Cleared for takeoff!
The Friars continued their hounding effort on the defensive end, buying more fast break points on pretty alley-oop from Carter to Corey Floyd, who absolutely stuck the landing.
What a sequence!
UK pulled away towards the end of the first half, stretching its lead to double-digits on this wild play – a tough block from Jacob Toppin that led to a deep 3.
Rising to the occasion
Iona opened the game with two triples, but UConn used that as momentum to get the wheels turning early.
On fire!
Iona continued its hot streak from beyond the arc, keeping itself in the matchup with a barrage of 3s in the first half.?
Get big on 'em
Adama Sanogo is a problem inside, and he began to flex his muscle in the second half to help UConn grow its lead to double-digits.
Sanogo finished with 28 points and 13 rebounds as the Huskies cruised to an impressive 87-63 win.
It's raining!
To complement the team's dominance inside, the Huskies' shooters began flashing their brilliance as well, extending the team's already comfortable lead.
6. Creighton 72, 11. NC State 63
Making history
Creighton came out strong against North Carolina State, setting a new program record right off the bat.
Back and forth
The Wolfpack cut the Bluejays' lead to two points, 28-26, just before the break after a hard-fought first half.
Trading blows
In the second half, both squads pushed to gain momentum, and the game saw multiple lead changes as it approached 10 minutes remaining.
Statue of Liberty!
Oh my goodness, Terquavion Smith! The smooth lefty made his way to the rack and threw down a picturesque dunk to pull the Wolfpack within three points.
The decider!
Despite Smith's jam, Creighton kept its composure and hit several big shots to close out the affair, including this corner trey from Baylor Scheierman.
11. Pittsburgh 59, 6. Iowa State 41
Hot start!
Pittsburgh was on fire to start Friday's game, sinking one big-time bucket after another right out of the gate.
Pitt took a quick double-digit lead over Iowa State, draining three 3-pointers in the first few minutes with ease.
Within arm's reach
The Cyclones kept things close, bringing the score within single digits just ahead of the half.?
Still, Pitt held a 30-23 lead at the break.
Up high, down hard
Pitt owned the second half, pulling away from Iowa State with a number of big shots and big dunks, including this mammoth slam from Diaz Graham.
2. Marquette 78, 15. Vermont 61
Slam!
Vermont got the opening bucket, but Marquette took the lead within the game's opening minute and never lost it.
On to the next
Despite the Catamounts' best efforts, the Golden Eagles continued to put distance between them, taking a 39-30 lead at the break en route to a statement 78-61 win.
5. Saint Mary's 63, 12. VCU 51
Neck and neck
It was a back-and-forth battle from the jump between VCU and Saint Mary's, with the two teams trading the lead numerous times in the first half.
Anyone's game
The Rams picked it up in the second half, but the Gaels held a one-point lead at halftime, 29-28.
Under pressure
Saint Mary's continued to apply pressure on VCU as the second half got underway, coming up with one clutch bucket after another to keep things close. In the end, the Gaels punched their ticket to the next round with a solid double-digit win.
3. Baylor 74, 14. UC Santa Barbara 56
Battling early
As the first half got underway, UC Santa Barbara didn't let Baylor get more than eight points ahead. Midway through the opening frame, the Gauchos found a groove and took the lead.?
UCSB led by one point at halftime, 36-35.
Seeing green
Baylor kicked it into high gear in the second half, cruising to double-digit win with ease.
3. Xavier 72, 14. Kennesaw State 67
Power moves
Xavier jumped out to a 7-0 lead right out of the gate, setting the tone early.?
It was a fast-paced battle from the tip-off, and both sides were showing off in a big way early. Exhibit A:?
Heating up
Xavier was commanding the court from the start, but Kennesaw State hit back-to-back 3s midway through the first half to knot things up en route to taking its first lead of the game, 25-23.
Kennesaw State continued to heat up as things wound down, grabbing a seven-point lead at the break, 43-36.
No quit
The Owls picked up where they left off as the second half got underway, exploding for a 13-point lead over Xavier.
Wild ending!
There was no quit in the Musketeers as the second half wound down, coming up with a 13-0 run late in the frame.
Kennesaw State retook the lead with two minutes to go, but Xavier still had a few tricks up its sleeve. In the end, the Musketeers narrowly escaped defeat, 72-67, to advance to the second round.
7. Michigan State 72, 10. USC 62
We're off!
USC was first to score, but Michigan State found a rhythm early and went on a 6-0 run to grab a quick first-half lead.
The Spartans extended their lead to double-digits midway through the opening frame.
Boom!
Both teams traded off huge dunks late in the first half, with Michigan State holding a slight advantage. Then, USC answered with an 8-2 run to pull within three points as the first half winded down. Things were tied 34-all at the break.
Making a statement
The Spartans extended their lead to nine points, 49-40, early in the second half, courtesy of Carson Cooper's wild dunk.
From that point on, Michigan State never relinquished the lead, cruising to a double-digit win.
Read more:
---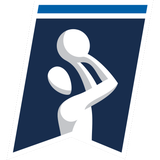 Get more from College Basketball
Follow your favorites to get information about games, news and more
---